Taser Tie
5 Jul 2008
Progress: Completed
A childish way to annoy someone is to pull their tie. It tightens the knot, meaning they have to waste time undoing it and tying it again. I took a bit more of a serious attitude to getting revenge on anyone who pulls my tie.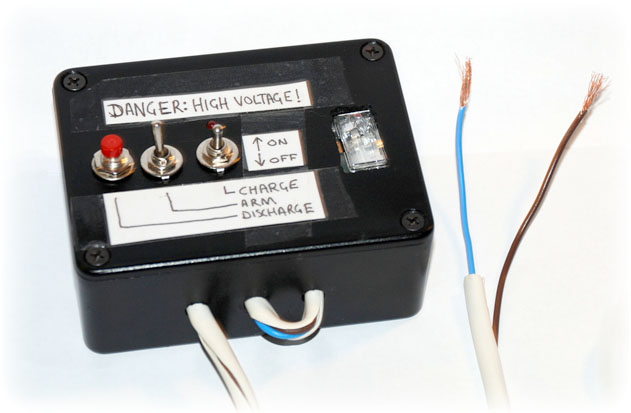 A 330 Volt capacitor is wired up to two rails, woven into either side of the main part of the tie. The oscillator circut and transformer, conveniently taken from a camera flash, are stowed away in a jacket pocket.
Anyone who touches the tie certainly won't be doing it again.
I never actually used this. I took the bare, live wires to show my friends, and after spending a good half hour shocking each other we decided it would be best not to have it in a tie. I mean, it hurts. It
really
hurts. Sometimes it makes you spasm. Sometimes it leaves burn marks. If you touch the wires together, you get a bright blue plasma arc and a very satisfying bang. The sad fact of the matter is, if someone pulled my tie, I'd probably end up getting sued.
All is not wasted, however. First of all, I've learnt that those little lever switches aren't nearly enough to handle this kind of voltage. The Arm switch is fine, it's only handling the current from the battery. The other one though, the power just arced across the contacts straight away and melted the insides. Good to know.
Secondly, a portable, self charging capacitor is more useful that you might think. There are plenty of projects out there based around old camera flashes - connecting it to a coil, you can make a mini Gauss rifle that shoots ball bearings. Although the capacitor in there at the moment is pretty small, there's room in the black project box to wire ten more in there in parallel, vastly increasing the output (and the battery drain). Probably worth it even if just to see the lovely blue sparks blowing stuff up.