Pencil Lathe
1 Feb 2014
Progress: Concept
I feel that my desk would greatly benefit from an executive, accurate form of pencil sharpening.
A miniature lathe exclusively for pencilware would permit not just the stylish sharpening of stationery, but also sculpting specific shapes for certain situations.
One could merely modify existing epicyclic sharpening equipment, replacing the spiral blades with a shaped cutter akin to those in wood routers.

Or perhaps the decided direction should follow form tools, like you'd find for an old turret lathe. Hot-swappable parts could make the manufacture of specialized pencil points a doddle.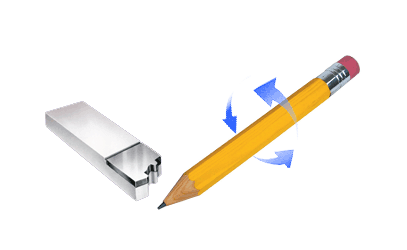 Yet another daydream from the mind of mitxela.